Are Things Fine Beneath the Gum Line? How X-Rays Benefit Pet Dental Health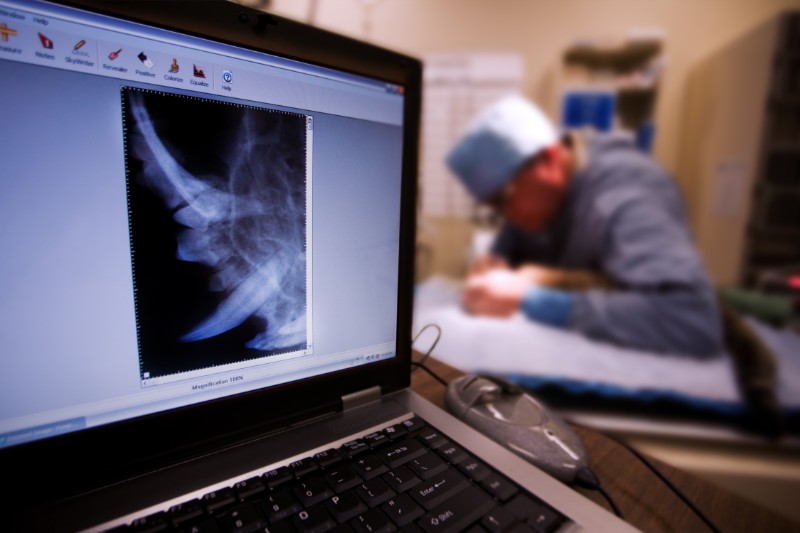 It's simply human nature to procrastinate. But as Benjamin Franklin once said, "an ounce of prevention is worth a pound of cure." This is especially true when it comes to pet dental health!

Much of the time, regular brushing at home falls to the wayside – until stinky breath is noticeable. At that point, damage to the gums may be a foregone conclusion.

With dental x-rays, routine cleanings, and follow-up care at home, you can really support pet dental health for the long haul.
Setting the Tone
We cover a lot of ground during your pet's routine wellness exams. We discuss weight and nutrition, behavior, parasites, disease prevention, and lifestyle. One of the most critical aspects of the exam is the quick peek inside your pet's mouth. They may not like it when we flip their upper lip and peer at their back molars, but this quick action can be revealing.
Building a Strong Foundation
We always encourage daily dental care for pets at home. Certain dental rinses and chews can aid in the effort to prevent plaque and tartar from gaining a foothold. However, there are no substitutes for toothbrushing, professional cleaning, exams, and x-rays.
Special Anatomy
What we really need to know cannot be seen with the naked eye. Since the majority of each tooth actually resides beneath the gum line, we depend on the clarity and accuracy of digital radiographs to fill us in. In other words, to truly support overall pet dental health, digital x-rays are necessary to ensure there aren't any problems under the surface.
Advantages of X-Rays
Gum disease, bone loss, infections, and even types of oral tumors can be effectively and immediately captured by digital radiographs long before we see their effects in the mouth – or throughout the body. Since periodontal disease can be systemic, we must do our best to protect the body's organs from oral bacteria spread via the bloodstream.
A+ in Pet Dental Health
Our compassionate approach to pet dental health hinges on ensuring your pet's comfort, safety and wellbeing. To minimize stress and possible injury, we must anesthetize animals prior to oral examination, cleaning, extraction, and of course, x-rays. Going under anesthesia can be stressful for pets and their owners alike, but we diligently monitor pets and update their owners throughout any dental or surgical procedure. We do our best to make each anesthetic event as safe as possible for your pet.
Our team at Harpeth Hills Animal Hospital prides ourselves on treating your pet like family. Please let us know if you have additional questions or concerns about pet dental health.